(Rainbow Bridge Photo by Ryan Evanson)
Those of us who live, work, and play in Truckee-Tahoe already know why it's such an amazing area to call home. Evidently, other aficionados appreciate our hometown too! Year after year, Truckee takes some of the top awards and accolades for the life that comes with living in our quaint mountain town.
Below you can see excerpts from a variety of stories, including one within the Kiplinger Newsletter, that showcase why Truckee in particular continues to shine as one of the best-of-the-best.
If you have ever thought about moving to a location where peace of mind is just the beginning of the mountain lifestyle, Alison would be pleased to help you find your own "home sweet home." To see what is available today, visit our Featured Listings page and complete MLS site. Then be sure to sign-up for our New Listings Alerts! Reach out to our Elder Group Tahoe office anytime, our team is at your service!
---
It's always a pleasure to read the prestigious Kiplinger Letter that contains positive and insightful information. Within an article in their Investing Section, they wrote a story about 25 small towns in America that have attracted the most affluent to call home. It's more than an honor when they make mention of the assets that come with investing in real estate and living a good life in Truckee, California.
Here's how they introduced the story.
A million bucks in liquid assets isn't what it used to be, but it's still really hard to amass.
Back out things such as the value of real estate (the bulk of most folks' wealth is tied up in their homes), employer-sponsored retirement plans and business partnerships, and only 6.7% of American households qualify as millionaires.
By raw numbers, most millionaires in America can be found in and around big cities throughout the USA – just as you would expect. But high concentrations of millionaires can be found in some far-flung places too – like Truckee, California:
Millionaire households: 3,448
Total households: 41,447
Concentration of millionaires: 8.0%
Multiple bodies of water including Donner Lake, where the Donner Party met its gruesome demise, make the entire area a recreational haven for water sports. And the long, snowy winters are perfect for the numerous ski resorts in the vicinity of Truckee and Grass Valley. Another appealing aspect of the area for millionaires: It's a straight shot down Interstate 80 to reach Sacramento, the state capital, and San Francisco.
---
But Wait, There's More!
(Photo courtesy of Truckee Wine Walk and Shop)
The Truckee-Tahoe area continues to be selected among the best-of-the-best for so many reasons. Below you will find more insight into the lifestyle which is wrapped with crystal-clear lakes, snow-laden mountains and endless assets that are all a part of our award-winning charm.
---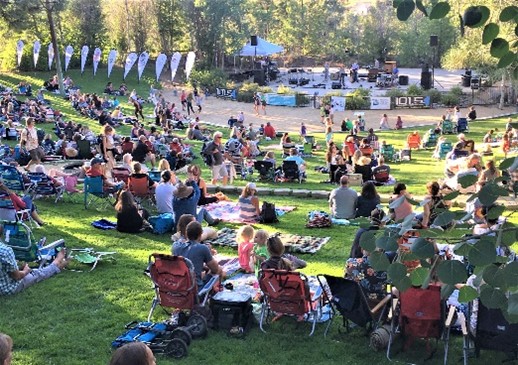 This well-respected publication also had its eyes on the beauty within when it selected Truckee as one of the Top 10 Mountain Towns in the USA. Their journalists tapped into our treasures through their interpretation below:
If you're into hiking, skiing, snowboarding, mountain biking or other elevation-centric sports, you're likely already a fan of mountain towns—those charming, adventure-friendly locales tucked into the hills. But mountain towns are also great places to take it easy, too: From world-class food and libations to their unmatched tranquil beauty, they offer an ideal way to escape the daily grind and relax. Lake Tahoe, 1,600 feet deep, is the big draw in these parts, but gold-rush hub Truckee, 12 miles away, doesn't suffer the same crowds as South Shore and beyond. Truckee is within 10 miles of 10 other lakes: Donner, for fishing or swimming, and Prosser, glass-smooth in the morning and motor-free for standup paddling.
---
Within their prestigious list of honorees, Truckee took home a title as one of the best ski towns in the West and was specifically noted as "The Most Well-rounded!" Here's their take:
Keeping a low-pro just 13 miles north of Lake Tahoe is this unritzified ski town. The historic main drag can please teenagers and grandparents alike, with gourmet coffee, a jazz lounge (Moody's), and a growing number of tasting rooms. Go relatively lowbrow at eco-chic-boutique Cedar House Sport Hotel or the exact opposite: Northstar's chichi Ritz-Carlton Lake Tahoe with two outdoor pools and a concierge who unbuckles your ski boots- for crying out loud!
---
Within SnowAddiction.org's annual recap of the best of the best, Truckee made the list as one of the Top Ski Resorts in the nation. How did they define the top? Here's their read:
Just what makes a classic ski town? It starts, naturally, with skiing and snowboarding so good they attract people like youth-bestowing fountains. Then add an inviting mountain burg steeped in ski heritage, amenities, and culture. These are the 25 bests. For insider tips, we asked local luminaries where to stay, play, and party, whether you're on a budget or indulging. In the Sierra Nevada north of Lake Tahoe, between Reno and South Lake Tahoe, the old logging and railway town of Truckee has bloomed into a ski mecca, with no less than eight different ski areas within 15 miles.
With many of its ski areas receiving some of the highest average snowfall totals in the country —it's easy to understand why the locals choose to live here.
You can too! See all the options at ElderGroupTahoeRealEstate.com. Then call Alison for a personal tour!